Kumarakom Lake Resort - One of the best resorts in India

Luxury
Kumarakom Lake Resort, acclaimed as the finest luxury heritage resort in India, nestles on the serene banks of the Lake Vembanad, the vast stretch of tranquil, emerald green backwaters, in one of India's popular holiday spots, Kerala.
Sprawling across 25 acres of lush greenery and set in soul-stirring ambience, Kumarakom Lake Resort, the winner of the much acclaimed World Travel Award as India's Leading Resort for four years, exudes the charm of Kerala's true heritage while offering a complete range of New Age amenities for a luxuriously comfortable stay. Luxury-laden rooms, villas and suites; Ayurmana, the Ayurveda Spa; swimming pools galore; health club; multi-cuisine and specialty restaurants; traditional Kerala teashop and countless other attractions in and around the resort offer you the simple luxuries of life, in the grandeur of the royalty of yore.

Kumarakom
None less than National Geographic Traveler has claimed Kerala as one of the must-see paradises of the world.
For administrative reasons, Kerala is divided into fourteen districts, each boasting its own unique bouquet of tourism products. Kumarakom, and Kumarakom Lake Resort, are in the district of Kottayam.
Kumarakom, an enchanting village set on the banks of the Vembanad Lake is wrapped in a quaint charm all its own. With soothing backwaters, thick mangrove forests, green paddy fields and ripe coconut groves as its accessories.
A mere short boat ride away is the world famous Kumarakom Bird Sanctuary, home to the Cormorants, Egrets, Darters, Herons, Teals, etc. and migratory birds like the Siberian Storks.
Access to Kumarakom is just as easy, being only 72 kilometres away from the Cochin International Airport.
Luxury Accommodation - Presidential Suites
The Presidential Suite, each in its own royal seclusion, is the final word in traditional architectural charm, luxury and the ultimate in self-indulgence. With its very own view of the lake, a private pool, a private courtyard and regal interiors that exude the splendours of a prosperous era gone by, set yourself free and relish exotic brilliance.
LED TVs 55''
Free Wi-Fi Access
Premium Toiletries
Cotton bathrobes
Hairdryer
Safe Deposit Box
Luxuriously stocked Mini Bar
Personal Working Desk
Private Sitout
Living Area
Turndown service
Concierge
Laundry services
Book Now
View Other Accommodation Options
Dining options at Kumarakom Lake Resort

Winner of the World Travel Award as India's Leading Resort

National Award Winner as Best 5 Star Hotel in India

Top 25 Resorts in Asia - Conde Nast Traveler
Destination Weddings at Kumarakom Lake Resort
Begin your new life together..
at perhaps, the only paradise on earth.
Allow us at Kumarakom Lake Resort to help you celebrate your love. Be enraptured in timeless luxury and indulge in this intimate romantic retreat where your wedding day would surely be a day to remember!
Nestled on the banks of the serene Vembanad Lake in the tiny nook of Kerala, Kumarakom Lake Resort offers umpteen picture perfect settings that ascertain enchantment and natural elegance. Be it by the pristine waters surrounded by abundant greenery or on a boat with the setting sun as your witness, we give you a choice of spectacular scenes to exchange your vows.
Destination Weddings Details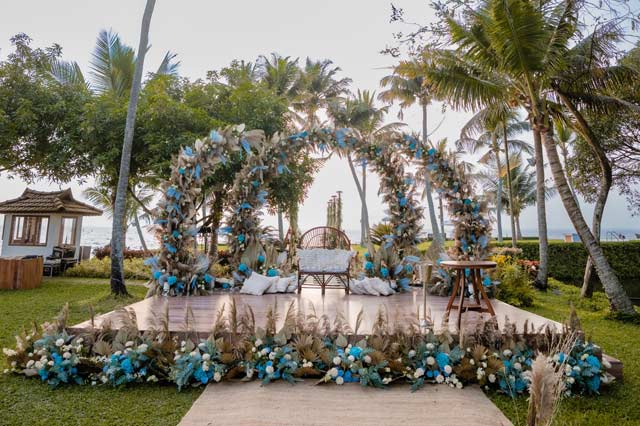 Vaibhav Patil

,
Google Reviews It was a wonderful experience. You don't need to go outside the resort as you will nature and sightseeing in the resort itself
Amala Anthony

,
Google Reviews We had a wonderful experience at Kumarakom Lake Resort. The food, stay and the ambience, everything was superb. The service was impeccable.
Maitrey

,
Tripadvisor Beautiful resort and amazing people. It was a great time living at Kumarakom Lake Resort. The food, the activities and the hospitality is something I've not seen easily. Must try the seafood specialty restaurant that's right on water.
Shabana Shaheer

,
Google Reviews This place was so good. The outside view was superb. It was a great experience
Salina

,
Tripadvisor This was our third trip to this amazing resort and we stayed at King Charles III presidential suite this time. Loved every bit of suite from the very spacious rooms, the large courtyard and our very own private infinity pool overlooking the lake.
Vaibhav Patil

,
Google Reviews It was a wonderful experience. You don't need to go outside the resort as you will nature and sightseeing in the resort itself
KUMARAKOM LAKE RESORT
Step away from the mundane and come discover a timeless realm of extraordinary experiences...