Ettukettu, the Speciality Restaurant
Ettukettu, the multi-cuisine, 115-seat restaurant owns the place of pride at Kumarakom Lake Resort. A princely eight-sided mansion with 2 central courtyards, the Ettukettu bespeaks of the grandeur of yesteryear Kerala's regal architecture. Commissioned by the King Marthanda Varma as a gift to his favoured martial arts tutor, Edamana Kellamthat Gurukkal, the mansion was built with all the magnificence of the homes of the nobility of those days. The Ettukettu had been dismantled from its original location and relocated in all its glory at Kumarakom Lake Resort, and is today dedicated to the culinary arts as it once was to martial arts.
The Continental, Chinese, Mughlai, North Indian and traditional Kerala culinary delicacies at the Ettukettu are a gourmet's delight, but the reigning speciality at this regal restaurant is the ethnic Kerala cuisine with a slew of fragrant spices lending the cuisine its very own flavour. Specialties served include Syrian Christian Duck Roast, Duck Curry, Karimeen Pollichathu, Karimeen Mappas, Appam, Thamarappam, Idiappams (string-hoppers), etc. Wide buffet spreads of various cuisines are also set here for breakfast, lunch and dinner.
Ettukettu, the Speciality Restaurant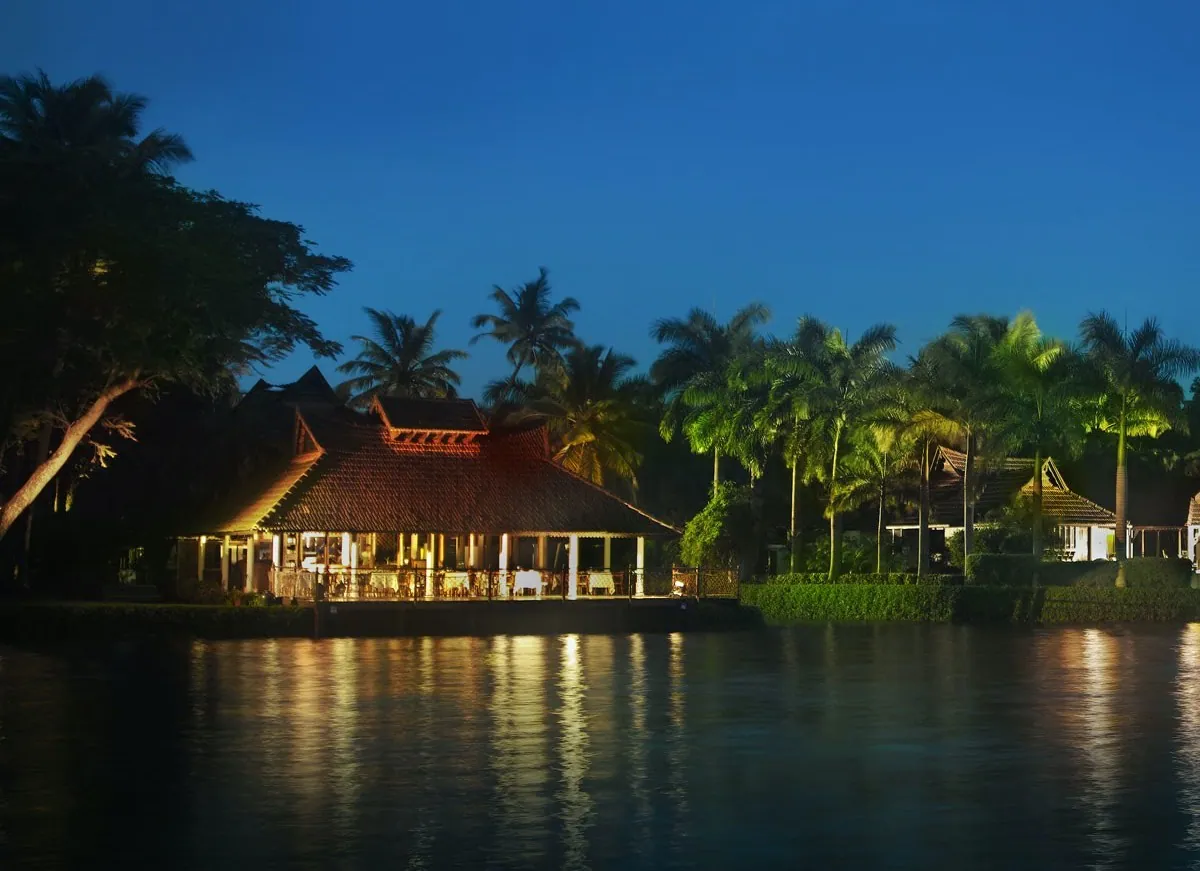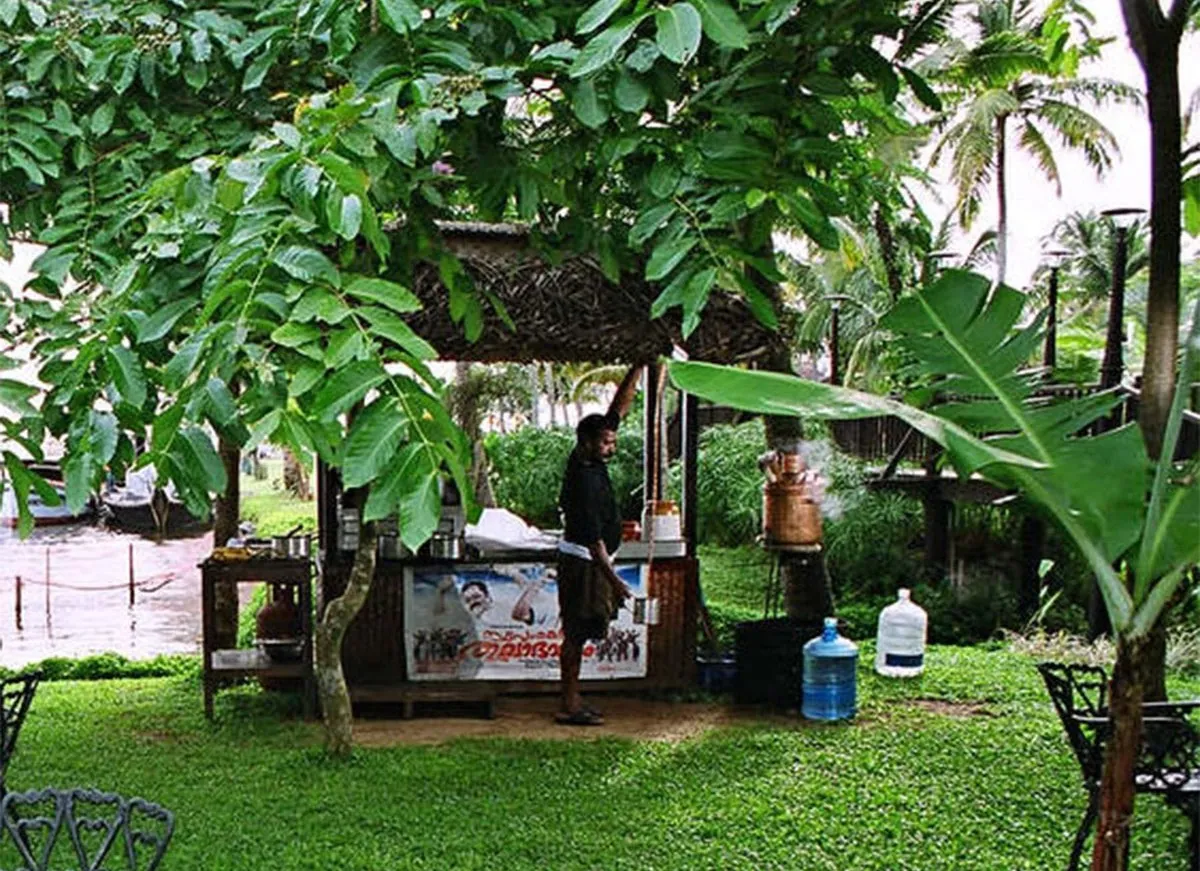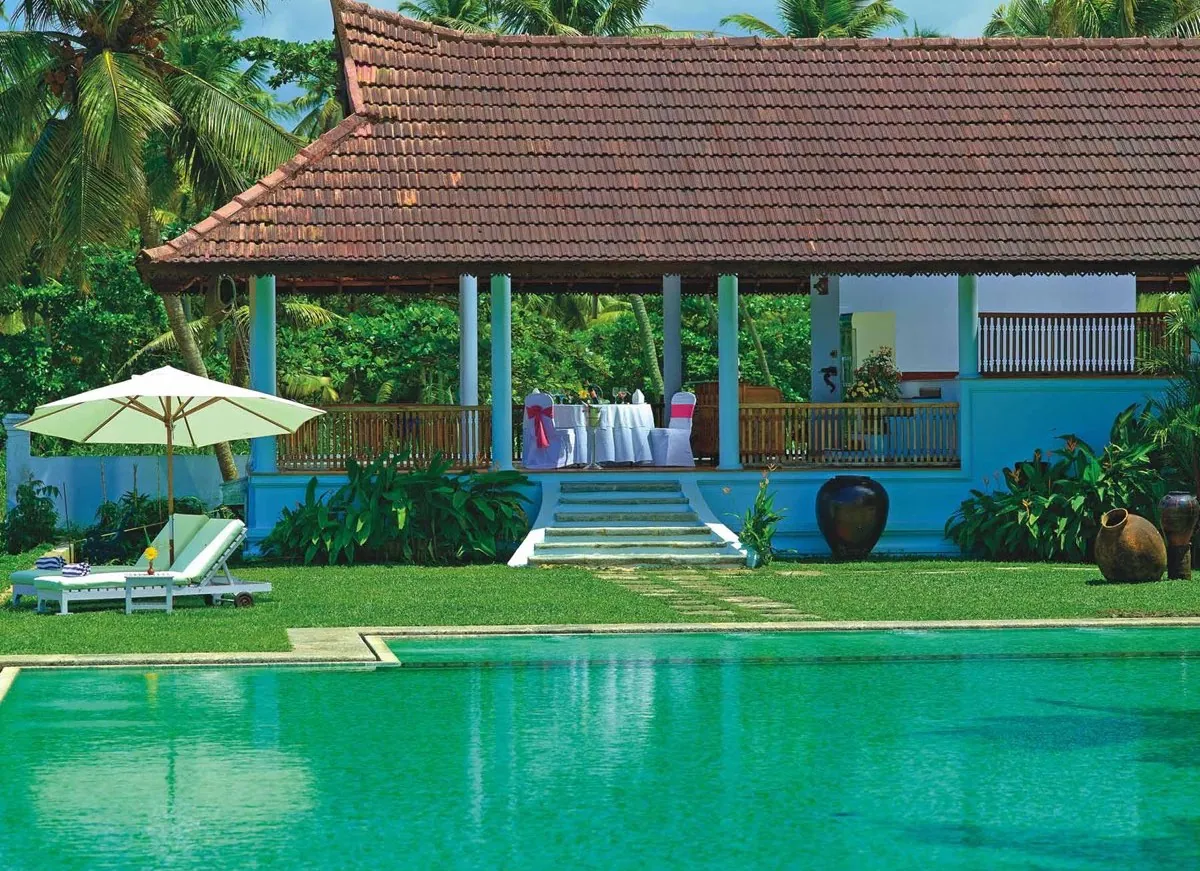 Kumarakom Lake Resort - One of the best resorts in India

Luxury
Kumarakom Lake Resort, acclaimed as the finest luxury heritage resort in India, nestles on the serene banks of the Lake Vembanad, the vast stretch of tranquil, emerald green backwaters, in one of India's popular holiday spots, Kerala.
Sprawling across 25 acres of lush greenery and set in soul-stirring ambience, Kumarakom Lake Resort, the winner of the much acclaimed World Travel Award as India's Leading Resort for four years, exudes the charm of Kerala's true heritage while offering a complete range of New Age amenities for a luxuriously comfortable stay. Luxury-laden rooms, villas and suites; Ayurmana, the Ayurveda Spa; swimming pools galore; health club; multi-cuisine and specialty restaurants; traditional Kerala teashop and countless other attractions in and around the resort offer you the simple luxuries of life, in the grandeur of the royalty of yore.

Kumarakom
None less than National Geographic Traveler has claimed Kerala as one of the must-see paradises of the world.
For administrative reasons, Kerala is divided into fourteen districts, each boasting its own unique bouquet of tourism products. Kumarakom, and Kumarakom Lake Resort, are in the district of Kottayam.
Kumarakom, an enchanting village set on the banks of the Vembanad Lake is wrapped in a quaint charm all its own. With soothing backwaters, thick mangrove forests, green paddy fields and ripe coconut groves as its accessories.
A mere short boat ride away is the world famous Kumarakom Bird Sanctuary, home to the Cormorants, Egrets, Darters, Herons, Teals, etc. and migratory birds like the Siberian Storks.
Access to Kumarakom is just as easy, being only 72 kilometres away from the Cochin International Airport.