Location of Kumarakom Lake Resort
Kerala
None less than National Geographic Traveler has claimed Kerala as one of the must-see paradises of the world.
This narrow strip of land, blessed with abundant greenery, is situated between the Arabian Sea and the Western Ghats. With innumerable attractions on hand - serene backwaters, beckoning hill stations, unspoiled beaches, exotic wildlife, colourful festivals, magical Ayurveda, amazing heritage, tantalising cuisine…you name it, Kerala has it.
Kerala has other advantages aplenty as well - hundred percent literacy, world-class healthcare systems, high living standards and quality of life, India's lowest infant mortality and among India's highest life expectancy rates. Peaceful and pristine, Kerala is also India's cleanest state.
Traders and travelers have been sailing to this land of infinite riches from time immemorial, seduced by her charm and abundant natural resources.
For administrative reasons, Kerala is divided into fourteen districts, each boasting its own unique bouquet of tourism products. Kumarakom, and Kumarakom Lake Resort, are in the district of Kottayam.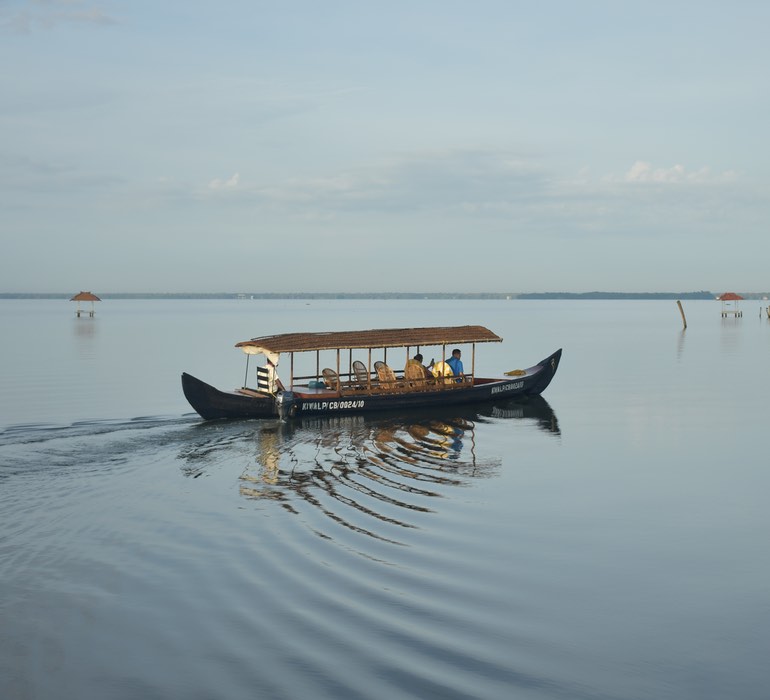 Kumarakom
Kumarakom, an enchanting village set on the banks of the Vembanad Lake is wrapped in a quaint charm all its own. With soothing backwaters, thick mangrove forests, green paddy fields and ripe coconut groves as its accessories.
A mere short boat ride away is the world famous Kumarakom Bird Sanctuary, home to the Cormorants, Egrets, Darters, Herons, Teals, etc. and migratory birds like the Siberian Storks.
Access to Kumarakom is just as easy, being only 72 kilometres away from the Cochin International Airport.
KUMARAKOM LAKE RESORT
Step away from the mundane and come discover a timeless realm of extraordinary experiences...